What if your friends and family are already on their way in a few hours for your annual Thanksgiving gathering, but you've been so busy that your turkey is still frozen in your fridge and nowhere near ready to be served to your guests?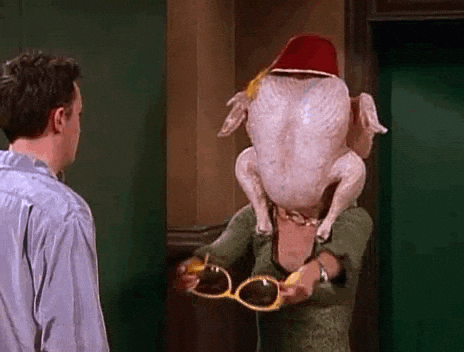 What do you do?
How to Speed-Thaw Your Turkey:
1. Heat oven to its highest setting, then blast the frozen turkey for 10 to 15 minutes in the oven to jumpstart the thawing process.
2. Submerge the turkey in a large container filled with cool (40 degree) water, changing the water every 30 minutes or continuously running a slow stream of water from the tap. It will take 20-30 minutes per pound for the turkey to defrost this way. 
3. Once thawed, proceed with cooking the bird immediately - or hold it in the refrigerator until ready to use.
How to Turbo-Cook Your Turkey
1. Spatchcock it: This involves cutting out the turkey's backbone then pushing the bird flat. Dry it off and liberally salt and pepper the whole thing, then rub softened butter and chopped herbs under the skin of the breasts. Place the sheet of meat breast-side-down in a roasting pan or large sheet pan. Cover the pan with aluminum foil to retain moisture.
2. Place the turkey in a 400 degree oven, basting it every 15 minutes with a mixture of butter and stock to prevent it from drying out.
3. When the breast meat reaches 165 degrees — this should only take an hour for a 14 to 16-lb bird — take the turkey out of the oven and let it rest for 15 minutes.
4. Carve the turkey according to this diagram.
Thanksgiving near-fiasco averted!